Beneficience.com PR Welcomes John Burd, PhD: Renowned Scientist, American Association of Clinical Chemistry Hall of Famer, Ullman AW, and Biochemist-preneur client…
For Immediate Release: This LIVE Wire story is trending in the news today….
PRESS RELEASE EMBED MAKING HEADLINES IN HEALTH, SCIENCE, LIFESTYLE, FOOD, BUSINESS NEWS TODAY
For Immediate Release: January 12, 2023
Dr. Burd is a renowned diabetes scientist and biochemist and Founder of Dexcom, the worldwide leader in Continuous Glucose Monitoring (CGM) systems. Get to know him and what good he is doing in the world, and for whom his life work benefits.
By: Beneficience.com Legacy PR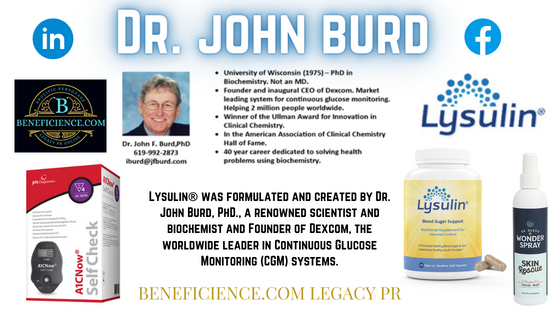 Beneficience Com Announces Dr John Burd, Renowned
SAN DIEGO – Jan. 12, 2023 – PRLog — About John Burd, PhD:
Dr. Burd is Founder & CEO of Lysulin, Inc and Wonder Spray, llc. In 2017 Dr. Burd founded Lysulin, Inc, developing scientifically proven nutraceutical products to improve the health of people with diabetes. The first patented product, Lysulin®, was launched in January 2018 and is showing remarkable results in clinical studies in lowering HbA1c and glycated proteins, the cause of disease complications. In 2019 Dr. Burd founded Wonder Spray, llc to provide relief for a variety of ailments and skincare problems using a natural and safe chemical that is used by white blood cells to kill all pathogens.
Dr. Burd was previously President & CEO of DexCom, where he directed the company's work to develop, manufacture and market the first long-term implantable glucose sensor for people with diabetes. In April 2005, DexCom completed a successful IPO, valuing the company at over $500 million. In 2020 DexCom had a market cap of over $40 billion. From 1999 to 2004 Dr. Burd was a General Partner of Windamere Venture Partners.
Before founding DexCom, Dr. Burd was the Founder, President, CEO and Chairman of LXN Corporation, which developed and marketed the Duetâ Diabetes Control System to healthcare professionals and the In ChargeÔ Diabetes Control System to the diabetes self-testing market. LXN was sold to Johnson and Johnson in 2000.
Previously, Dr. Burd held executive positions at QUIDEL Corporation, where he directed the development of enzyme immunoassay products for the clinical lab, physician's office and OTC markets. Prior to joining QUIDEL, Dr. Burd was Executive Vice President and COO for MAST Immunosystems, Inc. where he was responsible for the company's operations, including research and development, marketing, sales and finance. MAST Immunosystems was purchased by Hitachi Chemical in 1997. Previously, Dr. Burd was involved in other medical product research and development at Miles Laboratories, Inc. (now Bayer Corporation).
Dr. Burd has authored and co-authored over 45 articles and his work in the medical and biotechnology field has led to the filing and ownership of forty patents and the development of many innovative medical products. He graduated from Purdue University with a B.S. in Biochemistry, and earned an M.S. and Ph.D., also in Biochemistry, from the University of Wisconsin. In 2010 Dr. Burd was inducted into the American Association of Clinical Chemistry Hall of Fame and received the Ullman Prize for innovation in clinical chemistry.
Disclaimer: Dr. Burd's published product statements have not been evaluated by the Food and Drug Administration. This product is not intended to diagnose, treat, cure, or prevent any disease.

JOHN F. BURD, Ph.D.

Founder & CEO Lysulin, Inc and Wonder Spray, llc.
4930 Bradshaw Court, San Diego, CA 92130
Phone: 619-992-2873
Website: Promotes Healthy Insulin Function and helps maintain healthy A1c (lysulin.com)
Learn more about Dr. Burd's products below…
Insulin resistance: https://www.youtube.com/watch?v=rdiHqff3EY8
Lysulin video: https://www.youtube.com/watch?v=PK3CkMty6RE
Running A1c test: https://tinyurl.com/y379jbla
Wonder Spray:
https://www.youtube.com/channel/UCYFv1jgn3LmADcZklzLbMHA/videos
Follow Burd's PR News at http://Beneficience.com
MEDIA REQUESTS + MEDIA BOOKING: Dr. Burd is available for relevant events, speaking engagements, radio, podcast, television and media opportunities, news interviews, et als. Burd's media contact information is available now by request online at Beneficience.com Legacy PR at https://beneficience.com/?s=Dr.+John+Burd