Authorpreneur DM Simpson, The Queen of Fantasy Enigmatic Story announces Reading Event on May 4th 2022 at 7pm ET
"Hear a chapter from one of my books read by me and stick around for "Ask the Author."

– DM Simpson, The Queen of Fantasy Enigmatic Story at DM Solutions
For Immediate News Release
Authorpreneur DM Simpson, The Queen Of Fantasy Enigmatic Story announces Reading Event on May 4th 2022 at 7pm ET
"Hear a chapter from one of my books read by me and stick around for "Ask the Author." – DM Simpson, The Queen of Fantasy Enigmatic Story at DM Solutions
By: Beneficience.com Legacy PR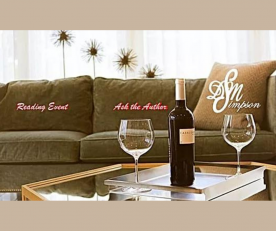 Dmsimpson May 4th 2022 7pm Et Reading Event
TIMBERLAKE, N.C. – April 22, 2022 – PRLog — About DM Simpson: Dawn Simpson is an accomplished self-published fiction author with an international following and writing coach. She has released five books through Amazon. Dawn coaches aspiring fiction authors on starting and completing their books through the self-publishing process. With a lifetime of storytelling, eight years of writing and publishing experience, five years of coaching practice, and cover design skills she is someone you will want in your corner. She has received a Meritorious Honor Award, a Bachelor of Science degree in Criminal Justice
DM Simpson Books
Website: http://www.simpsondm7071.wixsite.com
Media: Seeking Media Bookings with D.M. Simpson?
Submit Your Entertainment Media Interview Requests for emerging celebrity authorpreneur, Dawn Simpson, pen name D.M. Simpson | DMS Solutions within her live media kit form at https://beneficience.com/d-m-simpson
D.M. Simpson will be available for select media events, podcasts, radio & television broadcasts, speaking engagements, etc. that support her book entertainment and business solutions industry culture, and activity she will "trend" to share on multimedia platforms online to offline.
The Book Reading Event:
Date: May 4, 2022, at 7 pm EST
Activity: Learn more about DM Simpson, her characters, & her stories. Once you have signed up you will receive an email with the link to the event, the title of the book being read, & opportunity to purchase the book being read at a reduced price.
How to attend: Sign up now to reserve your seat at Book Reading Event | DMS Solutions (simpsondm7071.wixsite.com)